Well as you can see this blog is kinda coming along, right? :/
I'm trying to get all the blogs I follow linked up, and in the process I'm linking them to my rss feed in my apple mail (which is freaking sweet btw). During this process I keep getting distracted and reading the last 25 posts and such of each new blog I add. Whoops! haha
Thanksgiving break started this past Friday and doesn't end until Dec 3. YAY! I need a long break. During that time, I'll prolly be really getting this blog going. I hope to have whoever reads, love it. Also while I'm at home, I'll have time to actually do some DIY projects, or DIYables as I like to call them. I have a slide show on the right of the blog with pictures of inspiring things I'd love to DIY at some point in time. When I do DIY them, I'll take them off there, and figure out a way to show the inspiration and my DIY version of it easily for you all to see. :)
While I was looking around, I found these.
these are soooooo hot! they look like a bitch to walk in though....
I super heart statement shoes!
(thanks to
Crystal Baller
for the image)
So earlier today I was looking at some images from the recent runway fashion, and fashion in general, and of course, the trend is studs and chains. Bondage pretty much. I was thinking about how awesome summer is going to be if that's still in style! Think of the cute studded/chained bikinis?! Well, I found one! :)
(thanks to
Crystal Baller
for the image)
I'm on a stud and shoe roll today. I just found these shoes at Victoria's Secret
here
.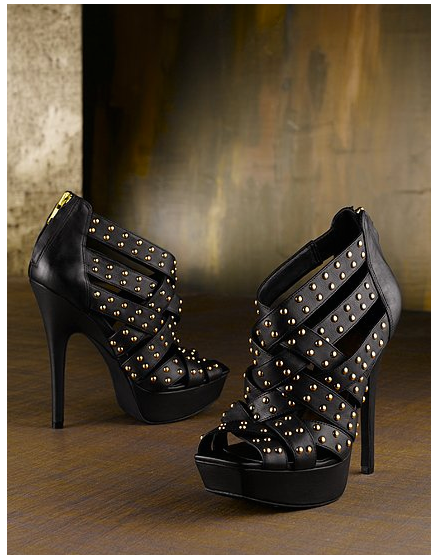 a near must have. If only there was a rating system for how comfortable shoes are!
I'm sorry I haven't been posting much like I promised over beak. Being home for this long is kinda...overwhelming? Yeah, that's the word.
I did, in fact, last night finish my first clutch purse. At the moment, I'm not sure if I want to add a cute little wrist chain for carrying purposes, or if I just wanna leave it the way it is. I used it today, totally adorable. I'll use it again tomorrow when I go out cuz I don't feel like carrying my huge purse.
Tomorrow I have a massage appointment at 11:30 and then a hair appt at 4. Idk what I'm going to do with my hair yet, hmmmmm. I'll be sure to post before and after pictures though!
Have a great night everyone!