no news update except for the fact it's freaking cold out! so cold i have 4 layers of shirts on and a winter coat and 2 pairs of sweat pants on and i'm still freezing my butt off outside walking to class. burrrr!
lets switch to some happy thoughts eh? :)

long, braided side pony tails are so in! i love them! i just wish my hair was that long :( it's gettin there though!
(
absolutelyobvious
- her blog = love)
total sequins blazer...perfection!
(
altamiranyc
)
basementclothes
)
so i really need a skirt like this so i can wear it with cute tees when i want. its so versatile! i need it! anyone know where i can find one? that's like...under 50$ preferably! :D
these shoes are orgasmic!
(
cheapskatechic
)
trend perfection
(
cheapskatechic
)
omfg!!! i want this dog! it's so cuteeeeee!
(
cheapskateshic
)
get it here
(
chicintuition
)
i want this whole outfit!!!....plus the long hair! i love the striped tights and oversized "evil" tee!
dear santa: THIS IS WHAT I WANT FOR CHRISTMAS!!!
(
platinumevil
)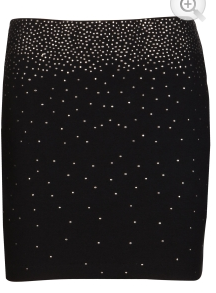 Charlotte Russe -
Studded Mini Skirt
-
$16.99
American Apparel -
Shiny High-Waist Skirt
in Champagne Luster -
$16.99

OH MY GOD LOOK HOW FREAKING AWESOME THIS IS!!! && its FREEEEE!<